The USS Wayne E. Meyer Tray
On Oct 10, 2009, Michael Galmer was a proud participant in the commissioning of the USS Wayne E. Meyer to the US Navy. At the historic ceremony at Philadelphia's Penn's Landing, the artist presented a large commemorative silver plate with intricate details and eagles on each end - with the motto 'One Powerful Legacy.'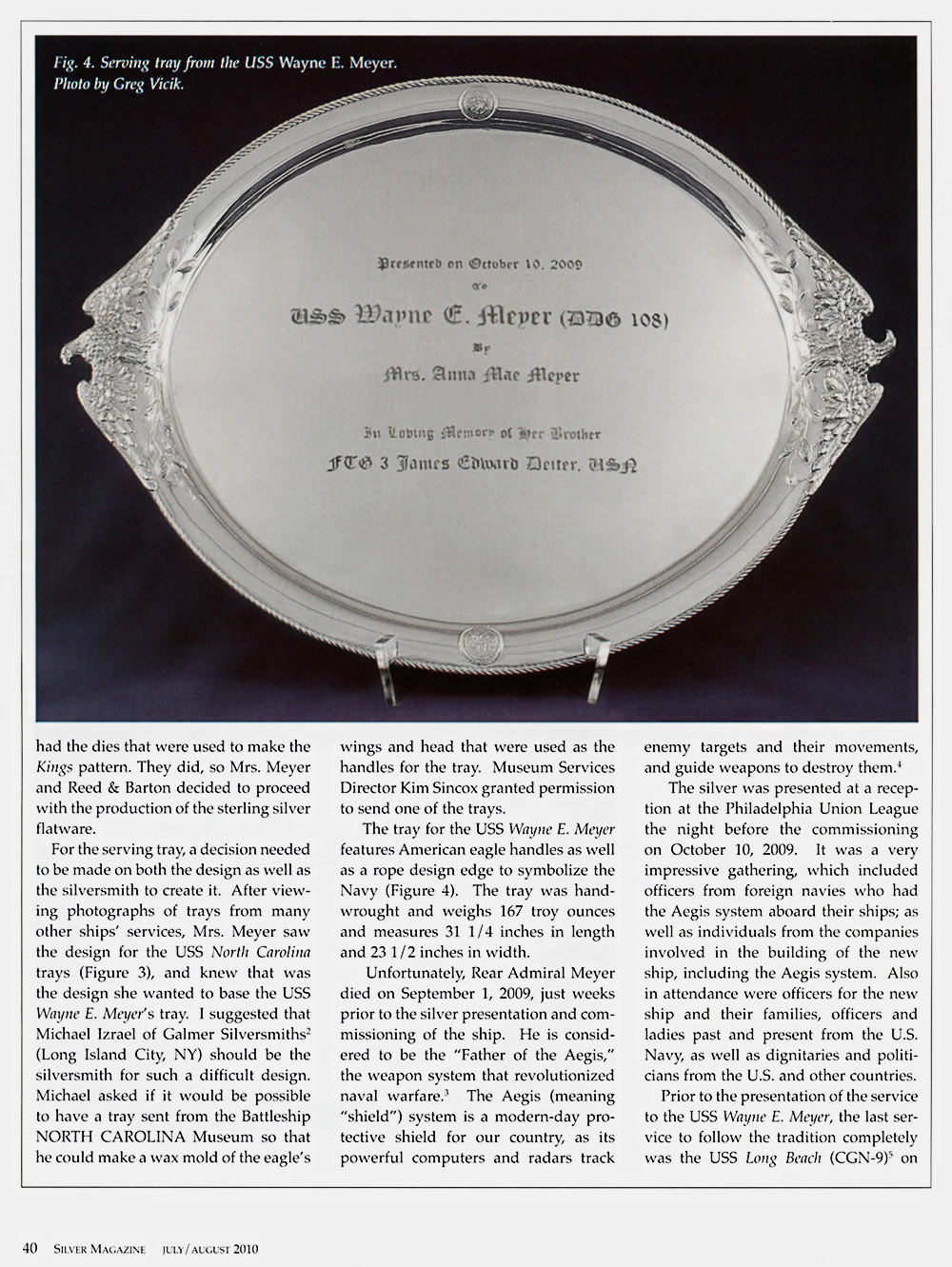 Silver Magazine, July/August 2010
Navy Presentation Silver for the USS Wayne E. Meyer (DDG-108)
...For the serving tray, a decision needed to be made on both the design as well as the silversmith to create it. After viewing photographs of trays from many other ships' services, Mrs. Meyer saw the design for the USS North Carolina trays, and knew that was the design she wanted to base the USS Wayne E. Meyer's tray. I suggested that Michael Izrael of Galmer Silversmiths (Long Island City, NY) should be the silversmith for such a difficult design. Michael asked if it would be possible to have a tray sent from the Battleship NORTH CAROLINA Museum so that he could make a wax mold of the eagle's wings and head that were used as the handles for the tray. Museum Services Director Kim Sincox granted permission to send one of the trays.

The tray for the USS Wayne E. Meyer features American eagle handles as well as a rope design edge to symbolize the Navy. The tray was hand-wrought and weighs 167 troy ounces and measures 31 1/4 inches in length and 23 1/2 inches in width.

Unfortunately, Rear Admiral Meyer died on September 1, 2009, just weeks prior to the silver presentation and commissioning of the ship. He is considered to be the "Father of the Aegis," the weapon system that revolutionized naval warfare. The Aegis (meaning "shield") system is a modern-day protective shield for our country, as its powerful computers and radars track enemy targets and their movements, and guide weapons to destroy them.

The silver was presented at a reception at the Philadelphia Union League the night before the commissioning on October 10, 2009. It was a very impressive gathering, which included officers from foreign navies who had the Aegis system aboard their ships, as well as individuals from the companies involved in the building of the new ship, including the Aegis system. Also in attendance were officers for the new ship and their families, officers and ladies past and present from the U.S. Navy, as well as dignitaries and politicians from the U.S. and other countries.